BP Transportation's unique, quality service is used by a number of prominent families, film production companies, directors, actors and celebrities.
The Preferred Membership Club provides an unrivaled level of quality and service that includes:
top flight chauffeurs / security oriented personal assistants;
a unique 24 hour Concierge Service;
first-class comfort and safety of our fully-equipped luxury SUV or luxury sedan, each fitted with tinted glass, satellite tracking, multi-CD changers and telephone.
Our SUV is also specially fitted with a state-of-the-art DVD monitor and wireless headsets.
BP Transportation can also supply specialized top-level Security Services upon request.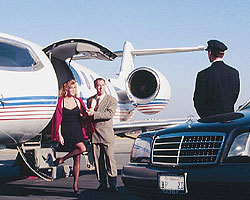 All of our chauffeurs are in constant contact with our office to satisfy any last minute requirements.

With membership in BP Transportation's Preferred Membership Club clients can pre-book monthly blocks of days and hours while benefiting from our new enhanced service like our:
Presidental Service
Upon your arrival at Los Angeles International Airport our professional team will handle every detail, starting with your greeting, then your escort to luggage or to our fully-equipped luxury SUV or luxury sedan.
In total comfort you can then sit back and relax, take care of business, or enjoy our selection of in-car movies or music while we collect your luggage before taking you home in a ride fit for a President.

Should you wish to depart the airport immediately, one of our aides will follow with your luggage.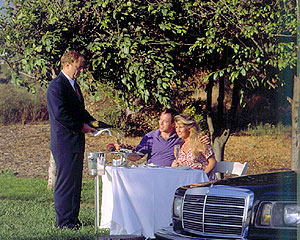 Trying to find a unique gift for that special loved one? A friend? Maybe even a business associate? Your BP Transportation's Preferred Club Membership could be the answer. We're ready to serve them too!

You can assign your Membership -- chauffeur/personal assistant and car, hours or days -- to anyone you might wish: a family member or friend who needs assistance with daily tasks or a special occasion, people visiting from out of town, etc.
We also have available, upon request, special gift ideas and packages.
Simply contact us and we'll do the rest!
BP Transportation's Preferred Membership Club is only available to a limited number of clients, joining on a first come - first serve basis. Once this number is reached, BP Transportation will close applications to the Preferred Membership Club and thereafter new members will only be added should one of our clients no longer require our service.
Specialized Service Description
BP Transportation is delighted to perform any delivery, errand or messenger service you may require.
Minimum 4 days (32 hours) per month, pre-paid.
Minimum booking is four hours, except airport runs and delivery services.
Subscribers can either select our custom SUV or luxury sedan.
We offer an optional airport gate greeting and luggage delivery service for your convenience.
Members will also have full use of our 24-hour concierge service.
Whenever possible, give us at least 24 hours notice for all bookings.
If you would like to take advantage of this unique and exciting opportunity, please contact our office and we will arrange, at your convenience, a consultation with a representative of BP Transportation to discuss how best we might serve you. The staff of BP Transportation looks forward to serving your every need.