"CA01", 5,000sqft, 4-bedroom/7-bathroom property at Whistler, British Columbia, Canada is available for vacation rentals. Whistler, BC is one of the world-s most coveted recreational destinations.
CA01 stands in the midst of over 200 marked trails. Ski directly from the front door to the base of two magnificent mountains.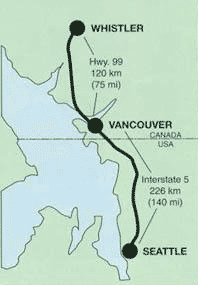 With its perfect balance of tradition and technology, CA01-s comfort, warmth, and truly magical atmosphere is wonderfully seductive. In ancient folklore, a red cedar is the gateway to CA01, the spiritual seat of higher realms. Today a four hundred-year-old cedar is the central feature in the most inspired home in Whistler, British Columbia. Rising powerfully from the central foyer and encircled with a stairway of hardwood and custom wrought iron. The cedar is only the first of many delights to be discovered at CA01 a rare jewel, the most creative home on the mountain. CA01's timeless design includes hewn coastal timber tipped with copper facing, fireplaces with log mantles, granite and river rock surfaces, and custom millwork. Every piece is an original.
Nestled in the mountains, CA01's innovative space flows as naturally as the nearby alpine streams, taking full advantage of natural light and views. CA01's spa includes an indoor lap pool and steam room, watched over by forest spirits carved into totems by First Nations artist Rick Harry. The pool is fed by a stream cascading over sculptured rock, and opens onto heated flagstone decks with a hot tub carved from stone, all with views of the valley below. The lighting in the pool room is intriguing as well as subtle. It accents the curved ceiling, custom designed of yellow & red cedar to replicate the inside of a giant canoe. The ambiance it creates gives the pool a look of tranquility. The crown of CA01 is a copper-roofed perched atop an ancient cedar. A three month search for the structurally specific cedar lead us from the far north to the Fraser River where this ancient giant was rescued from being milled into lumber. The cupola takes in panoramic views of the village, Whistler Golf Course, Blackcomb Mountain, and nearby Tantalus mountain range.
Total Rooms 29.5
4 Bedrooms
6.5 bathrooms

Living Room
Dining Room
Kitchen
Family Room
Mud Room
Entry
Study
Sitting Room
Laundry Room
Linen
Closet
Cupola Room
Media Room
Bar Room
Spa / Pool Room
Change room and 2nd Laundry area
Wine cellar
2 mechanical rooms
Storage Rooms
2 Car Garage
Rates
$45,000/week
&
$60,000/week (Christmas and New Year)
For More Information Please Contact:
Handling agent
BERND PROMMER

Tel: (310) 850-8060
E-mail: BPtransportation@aol.com